Posted on September 26, 2010
/
Quik Pro France – Tough Day in The Creme Brulee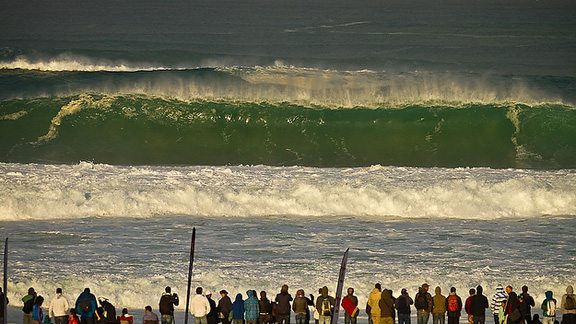 Pretty, in a mean sort of way. Photo Peter 'Joli' Wilson
Biarritz, France – Treacherous Barrels Day 1 at CULS NUS BEACH
The days are numbered on summertime in France. It was virtually still dark when event directors made the call to kick the Quik Pro France into gear this morning.
Jeremy Flores was in the first heat. Dragging his boards out of his car, he admitted he was still half asleep.
"I thought I'd put three boards in the car this morning, but I'm missing my favorite board," he mumbled in the pre-dawn glow. 
Perhaps it was an omen. 20 minutes later he was stuck inside taking 10-foot close-out sets on his head, with a broken board at the end of his leash. He made his heat in the last ten seconds after Bede Durbidge had led all the way — his consolation was knowing his favorite board was still intact.
Meanwhile, in the competitors' tent, Mick Fanning was bouncing around like a boxer preparing for a bout.
"I need my thick 6'1," he said between imaginary bobs and weaves. His trainer immediately headed off to Mick's accommodation.
The mission was successful and Mick paddled out on his 'thick' one. The added foam gave him added confidence and he pulled into the wave of the day to fend off Taylor Knox and Gabe Kling.
Kelly Slater probably surfed the worst heat of his life today (4 point heat total.) He couldn't buy a good wave. Pat Gudauskas and Quiksilver wildcard, Maxime Huscenot, scraped past him with a 10.10 and a 5.4 respectively.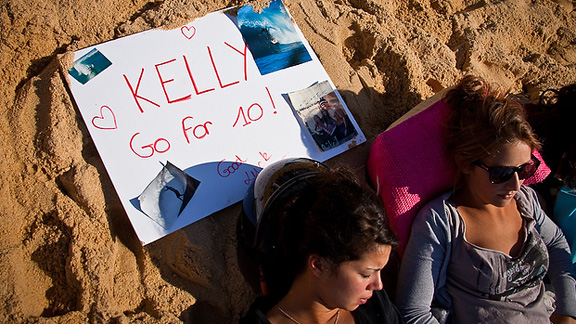 Peter 'Joli' Wilson/Shake it off Slates, they stll love you.
When Slater came back into the surfers' area he questioned Stephen 'Belly' Bell, his Quiksilver coach.
"Was there anything out there?"
Belly replied, "Nope, nothing out there at all." 
That didn't help the frustration after his heat, but seemed to satisfy him. Still, he was not happy with his efforts. Everyone was giving him a wide berth and even later his only comment to me was, "Yeah, it was tough."
Jordy Smith fared better. He had broken his two favorite boards at Trestles last week and was still trying to find a board that "worked," among the other 45 boards in his travel quiver. He still wasn't happy with his selection, but he'd found a couple of barrels for a 14-point heat total.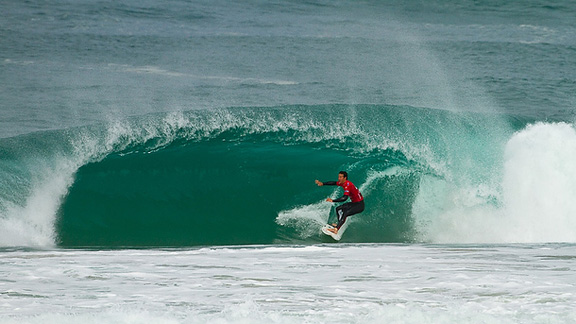 Peter 'Joli' Wilson/Jordy's heavy barrel, bru.
"That was the heaviest tube I've ridden all year," he claimed in a post heat interview. Later he told me, "They only gave me a 5.0 but that was heavy! It wasn't that big. Maybe that's why I didn't get a big score but it was a heavy wave, bru." 
I've been around surfing events for a fair while, but I've never heard a contest commentator, or anyone for that matter, describe conditions as being like a 'crème brulee.' But that's the description pulled out today.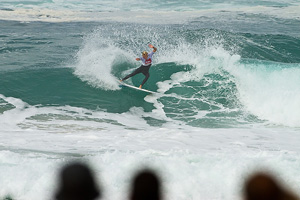 Maybe it's a French thing. Conditions were tough — not so much when they made the early call to start. Winds were better early on, with shoulders on offer. Hossegor is known for its beachbreak barrels, but once the tide started to drop it was really difficult in the bigger sets.
There's a bit of joke that Kelly doesn't do mornings, but he has the first heat tomorrow if the contest runs and he'll likely make an exception, in Heat 1 of Round 2. Let's hope the 'crème brulee' is a smoother variety.
You can catch the live webcast here.
QUIKSILVER PRO FRANCE ROUND 1 RESULTS:
Heat 1: Jeremy Flores (FRA) 9.36, Bede Durbidge (AUS) 8.50, Daniel Ross (AUS) 3.06
Heat 2: Dane Reynolds (USA) 13.70, Luke Munro (AUS) 9.83, Kieren Perrow (AUS) 6.84
Heat 3: Taj Burrow (AUS) 10.93, Travis Logie (ZAF) 5.43, Adam Melling (AUS) 5.36
Heat 4: Mick Fanning (AUS) 13.00, Taylor Knox (USA) 2.24, Gabe Kling (USA) 1.96
Heat 5: Jordy Smith (ZAF) 14.00, Luke Stedman (AUS) 8.27, Julian Wilson (AUS) 8.03
Heat 6: Patrick Gudauskas (USA) 10.10, Maxime Huscenot (FRA) 5.40, Kelly Slater (USA) 4.00
Heat 7: Brett Simpson (USA) 10.94, Adriano de Souza (BRA) 9.60, Chris Davidson (AUS) 6.87
Heat 8: C.J. Hobgood (USA) 10.60, Tom Whitaker (AUS) 7.73, Michel Bourez (PYF) 5.43
Heat 9: Adrian Buchan (AUS) 13.03, Jadson Andre (BRA) 12.97, Matt Wilkinson (AUS) 8.90
Heat 10: Owen Wright (AUS) 14.83, Tiago Pires (PRT) 7.77, Roy Powers (HAW) 2.03
Heat 11: Fredrick Patacchia (HAW) 14.13, Damien Hobgood (USA) 11.10, Dusty Payne (HAW) 7.87
Heat 12: Andy Irons (HAW), Bobby Martinez (USA), Kai Otton (AUS)
QUIKSILVER PRO FRANCE ROUND 2 MATCH-UPS:
Heat 1: Kelly Slater (USA) vs. Maxime Huscenot (FRA)
Heat 2: Bede Durbidge (AUS) vs. Julian Wilson (AUS)
Heat 3: Adriano de Souza (BRA) vs. Gabe Kling (USA)
Heat 4: Damien Hobgood (USA) vs. Travis Logie (ZAF)
Heat 5: Andy Irons (HAW) vs. Luke Munro (AUS)
Heat 6: Bobby Martinez (USA) vs. Daniel Ross (AUS)
Heat 7: Tiago Pires (PRT) vs. Tom Whitaker (AUS)
Heat 8: Jadson Andre (BRA) vs. Matt Wilkinson (AUS)
Heat 9: Michel Bourez (PYF) vs. Roy Powers (HAW)
Heat 10: Chris Davidson (AUS) vs. Dusty Payne (HAW)
Heat 11: Kieren Perrow (AUS) vs. Luke Stedman (AUS)
Heat 12: Adam Melling (AUS) vs. Taylor Knox (USA)
SURFSPOTS-GPS
International News Magazine